Hi Kathy,

Just a quick note to let you know how Abbey is doing. She has gained over 6 pounds already, just a real butter ball. Pretty much house broken and so loveable. Goes everywhere with me. Just a fantastic companion. We love her. I couldn't have gotten a better Christmas gift. Take care and we will keep in touch.

Thanks again,
Al, Mary and Abbey


Dear Kathy,

I'm enclosing a new picture of Buck - isn't he just adorable? And getting so big! Buck can sit, shake & lay down now! He is so social - just loves everyone. We are really enjoying Buck & he is just beautiful.

I'm glad we found you!
Jennifer and Buck

Dear Kathy,

We could'nt be more pleased with Scout! He is a bundle of energy. He loves the water and anything to do with the outdoors. We will give you periodic updates on Scout. He is just a wonderful puppy!

Sincerely,
Lyn & Tom

Dear Kathy,

I thought I'd send a quick note to tell you how we are getting along with our puppy. We named him Auggie (Doggie) after the old cartoon character. He is very healthy and extremely outgoing and friendly. His coat is beautiful and we are constantly receiving comments on how beautiful he is.

Thank you,
Thom and Annie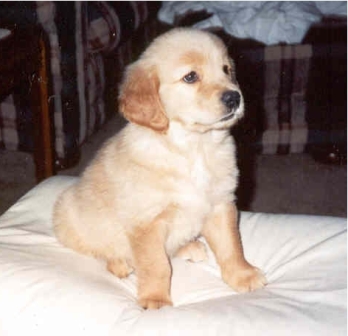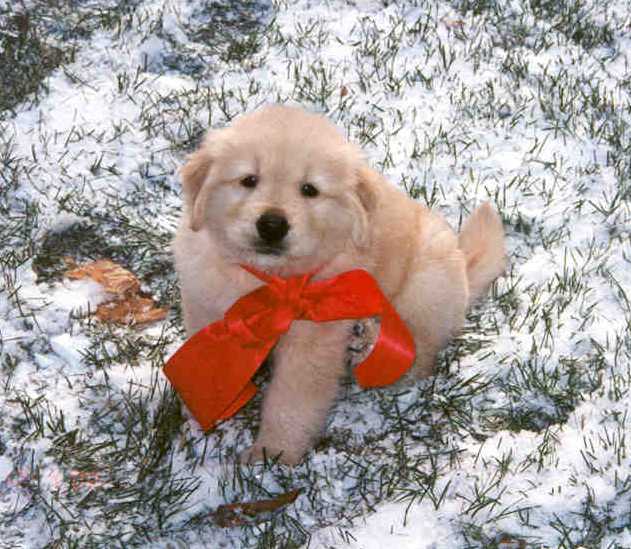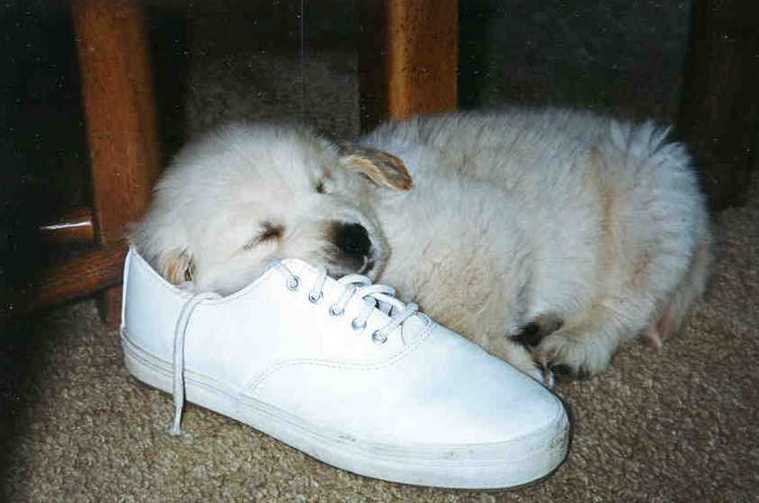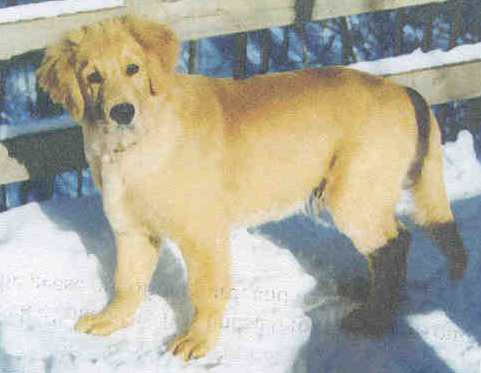 Dear Kathy,

I thought you would like a picture of Dusty, he is so sweet. He listens so well, we all love him very much. Thanks for letting me make him part of our family. I will send you pictures as he gets bigger. If you ever want to see Dusty just let me know, he sure is a people lover.

Thanks again,
Judy

Dear Kathy,

What a great dog we have! We couldn't be happier. She has a somewhat laid back personality which we were surprised at because she seemed like such a rowdy puppy. But like a typical Golden she loves everyone, runs through peoples legs for fun & talks to us frequently (Especially if she wants to be out playing with the kids).

Hope you enjoy the picture,
Cyndie & Michael

Double click here to edit this text.
Dear Kathy,

Bridget is a joy and she instantly became a member of our family with all the love and affection she gave us and continues to do so on a daily basis! She has the best temperament you could ever ask for and we consistently are receiving compliments on her beauty and personality, even from our vet!

Thank you again for bringing such joy into our family!
Jeff, Patti and Kids

Dear Kathy,

I am sending a few pictures of Maggie at 6 months old. She has a wonderful temperment and is so easy to train. She knows the basic commands and a few tricks. At 4 months old I started giving her the run of the house while I was at work and she has never touched a thing. I'll send pictures again at 1 year old.

Thank-you for such a great dog,
Diana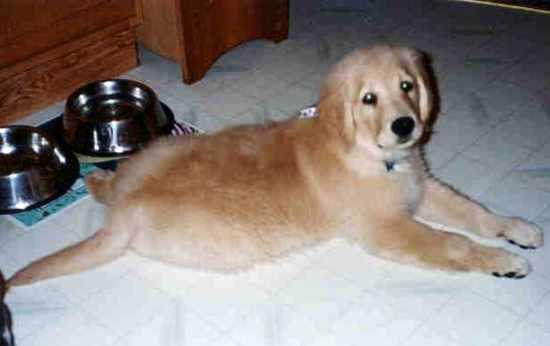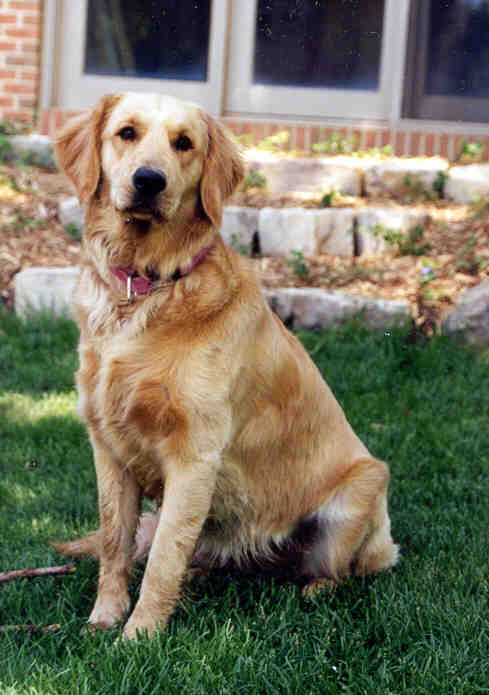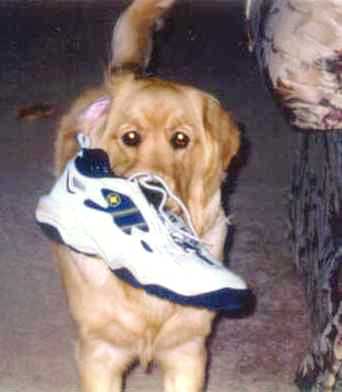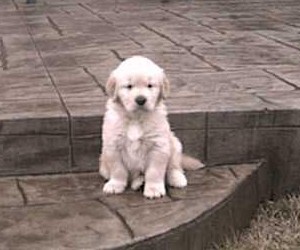 Hi Kathy!

I've enclosed a few pictures of our little girl, who we've named Sadie. She is the sweetest thing! We recieved all of our paperwork and everything has been wonderful. Even her big brother, Bear, has fallen in love with her!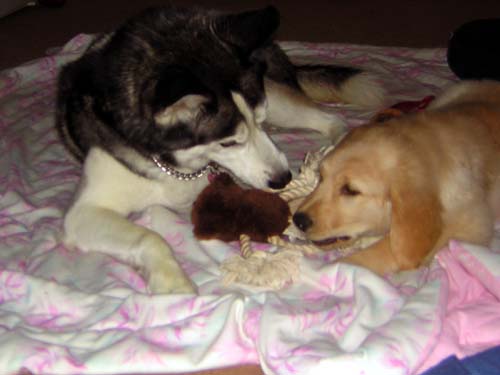 I'm Jeanette Keller & bought a beautiful female puppy from you 2 1/2 years ago, Daisy. My hard drive crashed last summer & I lost your email address so couldn't send you pictures for awhile. I finally found your web site with your email address so I have it again.
Daisy is a wonderful dog & so smart. Pretty well trained for a golden. Her downfall are humans & kids & dogs. I make her sit so she doesn't knock anyone over but her butt wags while sitting. She's so funny & hyper to get at them.
She walks bike trails with me off leash & stays by my side so nicely. I have also trained her to trot beside my bike with a special bike attachment, which she hates, but once we are on the new Richville to Saginaw rail trail, I release her & she trots beautifully beside my bike. These were a couple of dreams I had for us when I bought her. I am more than pleased. She halts on command for roads that the trail crosses. We really worked on that for months. I can even get her to halt while chasing after a ball. Pretty amazing.
Anyway, I have an end table that she used to lay under when she was a puppy & lately she has been laying next to it & putting her head under it & I finally got a picture of it. I thought you would enjoy seeing the puppy & adult picture of her with 'her' table.
I also took some other pics over the months that I can now send to you. 2 of her sitting, one facing the camera & one sitting sideways were taken up at Fletcher's Pond last summer by the guy in the next cabin who thought she was the most beautiful dog he'd ever seen. Another is of Daisy & my daughter's lab, which I titled Dumb & Dumber. They were so funny together. Another is us with my horse & my brother's Brittany.
Do you remember the day I came to look at your 3 females & your dad's 3 puppies? Another lady from Davison visited earlier & couldn't decide if she was ready to replace her dog that had just died. Then she came back while I was there & wanted the 'baby faced' puppy, which was the one I wanted, & when she looked them over, she took the wrong puppy. I often wonder how she liked hers & if she ever realized her mistake. I wouldn't have bought a puppy that day if she would have taken Daisy. I think she was so easy to train walking beside me because she did it so automatically when she was 8 weeks old. She walked all over your yard with me right beside my leg. I knew she had to be mine when she did that.
Hope you enjoy the pictures.

Jeanette

Hello Kathy,

I hope you received the last email with a bunch of attached photos. Let me know. Time really flys by. Here are a couple of photos of Oliver on his birthday last month. He is doing great. More velcro then ever. They know him by name at the pet store. I special order his food (Fromm 4 Star) and they call him Oliver the Fromm puppy. He is 2 and maintaining a solid 85 lbs. He swims a couple times a week. He is very adept at water polo as the pictures will show. He's become very spoiled. He prefers the pool over the beach. He does not like salt water from the ocean. I sent a lot of pictures last time so I'm not sure if that overloaded your inbox, so I will not send as many this time. Let me know if they came through ok or not.

Kyle
Hi Kathy,
We thought you would like to know how Maya is doing. She is doing wonderful. What a beautiful dog!! She is such a sweetie. She is about 95% housebroken. She sits by the back door until we let her out. Maya sleeps in a crate at night but doesn't make a sound. It's been that way since the night we brought her home. We absolutely love her. I included a picture so you could see what she looks like. You know by looking at her she is all girl! Thank you for breeding such a great puppy.
Hope all is well with you and your family.

Love,
Amy and Ron Maurer


Golden Retriever Testimonials












Lilly was born in Oct 2006. We have yet to send pictures until now. I wanted to let you know Lilly is a wonderful dog and we take good care of her. This is our first Golden and I would recommend them to anyone. From how good she has been it has been apparent she must have came from good genes.

Regards,

Justin Wilhelm